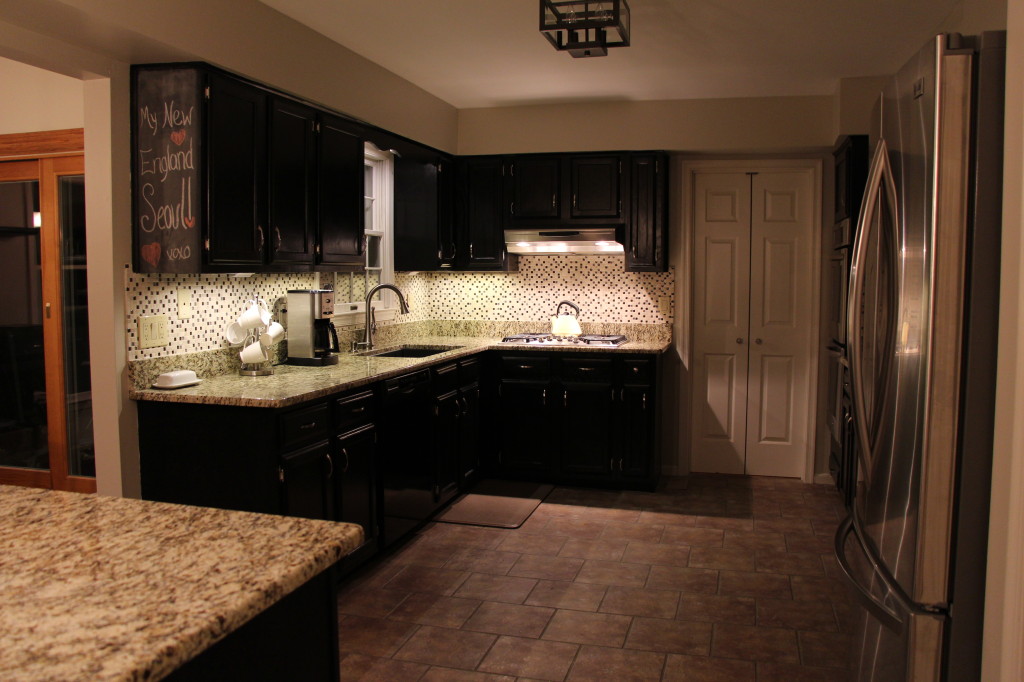 The kitchen was one of the first rooms we updated after moving into our first house.   Like the rest of the house's style, it was stuck in the 80's and desperately wanted out.  We knew there were much needed updates throughout; however, the house had good "bones" and that was most important. The kitchen had lots of cupboard storage, counter space and a pretty functional layout but it just. looked. dated.
We knew we wanted to update the look of the room without spending a fortune, so here's what we did.
Cabinets: 
The cabinetry was in very good shape so we decided to keep them in their existing layout and just re-face them.  We removed all of the doors and hardware so they could be sanded down, primed with a heavy bonding primer and painted.  The same went for the cabinets, themselves.  After a coat of primer, 3 coats of paint and 2 clear coats of polycrylic for protection, they were looking pretty good.  We replaced the pulls and hardware and called it a day…err…more like 2 weeks.
Appliances:
All of the appliances were functional but very old and VERY old-looking.  We replaced all pieces with new, stainless steel, with the exception of the dishwasher and you'll see why in a moment.
Countertops and sink:
Original countertops were laminate and though they were in decent shape (no chips, cracks, etc.), they were not the look we were after.  We ended up having granite installed, St. Cecelia, to be exact.  We replaced the standard stainless steel sink with an extra deep, blanco sink, in black to complement the new look of the cabinets.
Lighting: 
Original lighting included two box fluorescent lights on either side of a white ceiling fan, in addition to fluorescent under cabinet lighting.  There were also two semi-recessed (eyeball) lights above the bar.
We removed all fluorescents!!! We also removed the ceiling fan, the two eyeball recessed lights and patched up the ceiling.  We added a semi-flush light fixture in the middle of the room,  LED under-cabinet lighting,  and two pendant fixtures for above the bar.  The new range hood had lighting as well.
Backsplash:
The original kitchen did not have a backsplash of any kind.  We added mosaic glass tile and installed it ourselves.
Here are some before and after views of the room: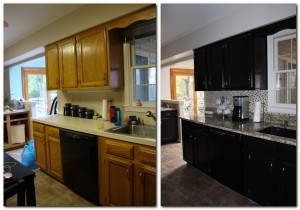 Here are some up-close views of the some of the fixtures we added.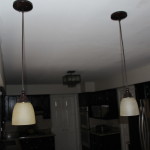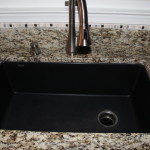 Cost breakdown (approximate):
Cabinets: $50 (paint, primer and clear coat), $50 (pulls, hardware)
Appliances: $1400 (fridge), $900 (cooktop), $1500 (double oven), $250 (microwave), $200 (range hood)
Countertop and sink: $4,000 (granite), $650 (sink and faucet)
Lighting:  $350
Backsplash: $300 (mosaic tiles, grout, tools, glue)
*TOTAL:  $9,650
For us, this room is like a breath of fresh air compared to its' previous state. We didn't spend a ton of money on it, but the changes we made were dramatic and gave us our first taste of home renovation.  We have been hooked ever since…Lots more to come!
*These are approximate values but it's safe to say we did it under 10k including all miscellaneous tools/supplies