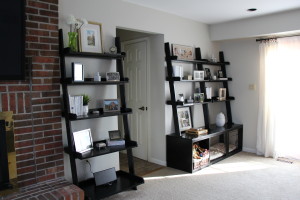 A few weeks ago, I shared our process of making leaning bookshelves inspired by ones featured in Pottery Barn.  As promised, here are some pictures showing how they came together in our family room.  We don't love the red brick as it makes the room darker and a little dated…not to mention the gold trim around it.
The decor on the shelves are not finalized, but it fills the space for now.  Here are a few before shots of this side of the room.  They were taken at night so the picture quality is dark but you get the idea.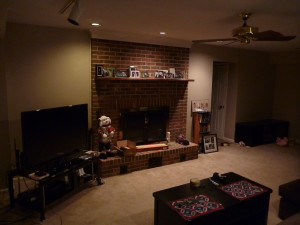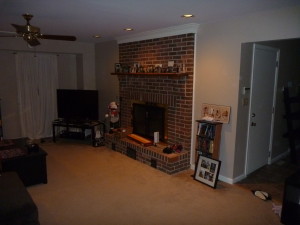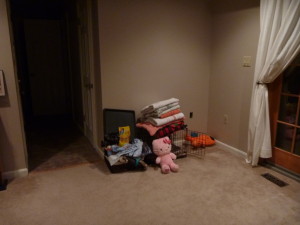 The space was poorly utilized and the pups had two wire kennels side by side (only one shown above) with the wall space completely wasted.
The number of bookcase units totaled five with a built in dog kennel underneath two of them.  Here is the room with the bookcases.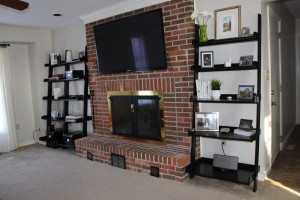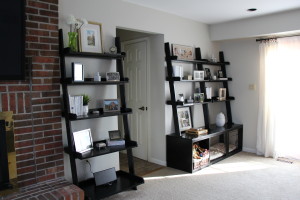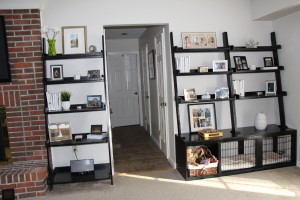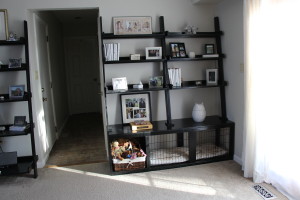 We love having the girls' kennel built right into the furniture.  It's a space saver and is less of an eye sore.  We even added a separate compartment to house all of their dog toys to keep it all contained.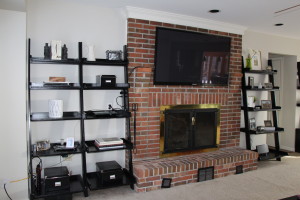 It does feel more "finished" with the bookshelves but it is a lot going on for one wall.  We got rid of the mantle shelf, bought a bigger TV to fit the space and mounted it over the fireplace.
I have plans in the works to update the fireplace area as well as the other side of this room.  More to come!