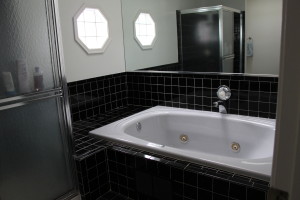 Even though we have done a lot of updates in our home, one of the areas that has plagued me from day 1 is our master bathroom.  We have been putting off the project for years because it is a fine line between over-investing in a house that's not our "forever home" and having to live with something we hated.
It feels so small with the black tile, single sink, and huge jacuzzi tub that takes up, literally, half the space.  Not to mention the first thing you see when you open the door is the shower stall which is the tallest thing in the whole bathroom.  It feels like an incredibly poor use of space.
Here's a better view of the behemoth of a tub…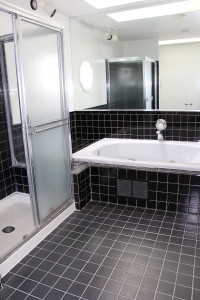 View from the tub of the other side of the space…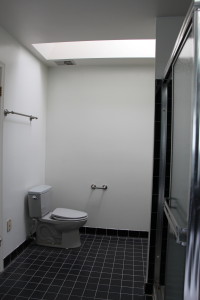 And, in front of the toilet is a single vanity…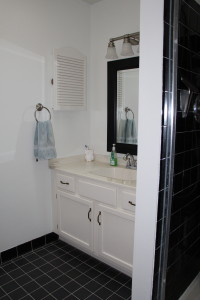 The entrance to the bathroom is directly in front of the shower, so it really feels closed in due to the obstructed view as soon as you enter the room.
This room has two skylights and a single octagonal decorative window (pictured above) that is not functional.
We are finally ready to take on this project.  I'm ready for a light and fresh master en suite…one that feels more like a spa and less like a dungeon.
Check back next week to see our progress.  Thanks for reading!